Running a business, institution, non-profit organization, or government agency is certainly different today from what it was a generation or two ago. Resources are not as plentiful as they once were. When we gather the required human resources, we find ourselves structuring as much creative use of their talent into their job description as we can to maximize our return on investment. Still, the risk of losing those resources, even though we thought we had them well in hand, hangs over us like a Damocles sword.
An effective performance management program is a useful tool for fulfilling an organization's mission, reinforcing or changing organizational values, and accomplishing the objectives set by the strategic plan. While performance management may be used to determine staff planning requirements, awards or compensation, the overriding purpose is to improve individual and organizational performance.
When we talk about human performance, we are typically talking about two things: (1) people's behavior or actions and (2) the effects of those actions on the organization. The effects of our actions are realized through others, in information we retain, and on "systems." A well thought out strategy and plan does more than determine what actions will be taken in the future. By planning how future will look, you have the ability to see beyond each goal. In this era of fierce competition, victory will go to those organizations who know how to harness the momentum that occurs when people are inspired reach individual goals in their quest for organizational excellence. The challenge lays not so much in attracting the all of best people, but rather in getting the best out of all of your people.
Generally, the impetus for the design of a new performance management program is either a new external challenge or problems within the organization. In some organizations, lack of motivation, conduct problems, and poor performance are major issues. In others, the focus may be on a high rate of grievances, subjective ratings, rating inflation, or an inequitable distribution of awards. Some organizations recognize the need to better align performance appraisal and awards with their strategic plan. Often, advancing technology can cause position descriptions and standards to become obsolete. In many cases, the current appraisal and award programs no longer seem appropriate as organizations evolve.
At Hampton Resources, we assist organizations in successfully implementing performance management programs through goal setting, supervisory training, communication, feedback, and measurement standards thus improving individual performance, management capabilities, and organizational results.
Performance as an Organizational System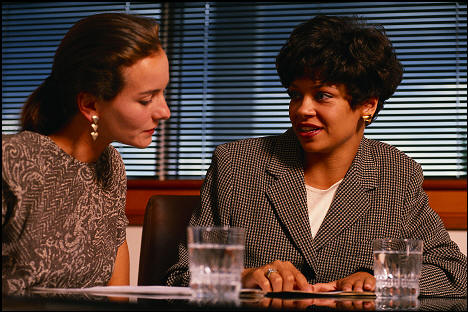 Most organizations focus on an annual evaluation process for employees and call that Performance Management. However, annual evaluations are often subjective and can lack specific measurements and supportive data to help the employee truly improve their behavior.
Simply put, a Performance Management System is essential to the success of your organization because it influences the effort expended by employees, which in turn, drives bottom-line business results. Furthermore, the Performance Management System helps an organization identify, recruit, motivate, and retain key employees. An effective Performance Management System should achieve the following:

Review the employment cycle of every employee, beginning with the recruiting process, employee development, and ending with effective exit interviews;